1.Comprehensive Designs of Container Desiccants
According to the container environment and cargo conditions, as well as different areas of moisture damage, we have different designs.

For common palletized cargo, we have White Series as follows,
Cargo Guard®, 1000g, 2000g, with hook, can be hung on the hoop, mainly prevent "Container Rain"
Cargo-Care®, 500g, can be placed freely inside the pallets, between the cargo, or on the container floor, mainly prevent pallet mould, and floor condensation.
For the cargoes in special packaging or loading conditions,
Dry Guard®-1000, long, thin strip in shape, with hook, suitable for the goods with tight loading conditions.
Dry Insert®-1000, hard shell with good print, with hook, can be inserted into the grooves on the container wall to save space. What is more, its excellent print and good looking improves your band image greatly!
Dry -Paste®125g , Tyvek packaged, the back side is with adhesive function. It can be pasted onto the pallets to avoid "Cargo Sweat".
2.Excellent Adsorption Capacity
It remains its strength and round shape after full adsorption. It keep working for more than 60 days, adsorption capacity reaches 250% at 40℃,90%RH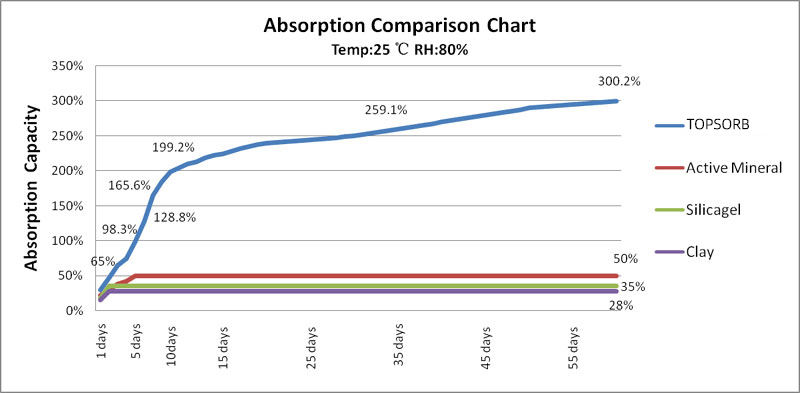 3. Safe and reliable package material
*Option 1: A special kind of laminated non-woven with excellent water repellence and good air permeability. It is with tiny pinholes bigger than water vapor molecule meanwhile smaller than water molecule. Thus, water vapor goes inside while water liquid can't go outside. It is an ideal substitute of Tyvek for desiccant package.
* Option 2: Tyvek of DuPont. It has excellent water repellence and good air permeability. It is also very strong.

The users shall pay special attention to the anti-leakage ability of the package material in the selection of container desiccant.
Simple test of air permeability:
4.One Stop Container Service
(1) Indicating products: Timber Moisture Tester, Temperature and Humidity Recorder, Shock Watch, Humidity Indicating Card
(2) Packaging products: Dunnage bag, Paper Guarding Kok, Container sealants.
TOP-SORB, Moisture-Proof Expert of Container Cargo, Deliver Your Goods in Perfect Conditions!