PET Strap
PET strap, Bind-Force is mainly made from polyethylene glycol terephthalate (English abbr. PET), a popular new type packing material on the international market. With its advantages of low cost, nice and durable, environmental-friendliness and recyclable, high automatic operation, it is widely used in the fields of steel, alloy, chemical fiber, cotton spinning, tobacco, paper making, metal canning, etc.
PET strap is ideal substitute of steel strap. In U.S.A and Europe and other developed countries, with the increasing consciousness of safety and environment protection, safe and easily recycled packaging materials were required to be used by force. For heavy and large-sized cargo, there was only steel strap in option. In 1999, PET strap was born. In a couple of years, it has been spread over the world and widely used as a substitute of steel strap in paper, wood and steel industries.
Specification
width:
12mm, 16mm, 19mm, 22mm, 25mm,Normal specificatio:16mm, 19mm
Thickness:
0.4mm,0.5mm,0.6mm, 0.7mm,0.8mm,0.9mm,1.0mm,1.2mm,Normal specification:0.6mm-1.0mm
Available color:
Green, Black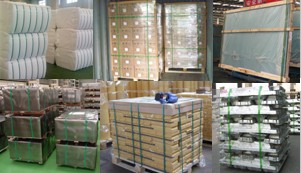 PET strap's advantages:
PET strap's advantages:
It has tension resistance as strong as steel strap, also extension ability of shock resistance, giving more insurance to your cargo transport.
Small extension rate:
Only one-sixth Percentage of elongation polypropylene (PP) straps. Keep Long time tensile force. High thermotolerance: melting point 260 degrees, not distorted in form lower than 120 degrees.
Good flexibility:
No sharp edge like steel strap, safe operation, not harmful to hands and package.
Nice & Rustless:
No trouble of the rust stain on package coming from steel strap. Bright in color.
Economical:
1 ton of PET strap is equal to 6 tons of steel strap in length. 50% cost can be saved comparing with steel strap.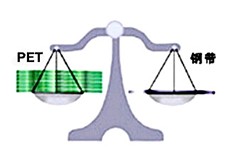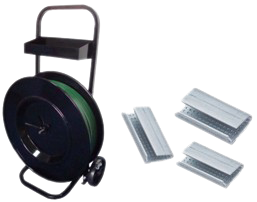 Related products:
Strapping cart:
is used to carry PET strap, seals and related tools in the packaging work. It helps to move PET strap roll freely and prevent PET strap from pollution or being messy and loose.
PET strapping seals
PET strapping seals
PET Strapping Tool
PET strapping toolconsists of strap sealerandstrap tensioner specially designed for PET strap. It is your first option of packing due to easy use, very low malfunction, no need operation training, adaptable in tough working conditions. It saves 20cm in length each time comparing to steel strap.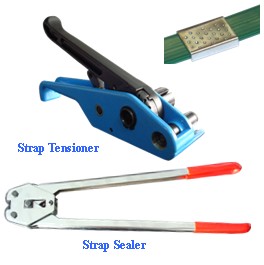 Model
Available Strap Width
(mm)
Available Strap Thickness
(mm)
Tool size
(mm)
Weight
(kg)
Color
UT310
9~19
0.4~1.0
267×71×135
1.3
Blue/Red/Green
US306
13
0.6
400×125×45
1.65
/
US307
13
0.6
505×122×45
1.85
/
US308
16
0.6
400×125×45
1.65
/
US309
16
0.8
400×125×45
1.65
/
US3010
16
0.6
505×122×45
1.85
/
US3011
16
0.8
505×122×45
1.85
/
US3012
19
0.8
505×122×45
1.85
/
PET strap tensioner: It major parts are made of precision-cast aluminum. Coherent operate on tensioning, unbracing and cutting. Easy operate and Durable service. It is available for straps in 9-19mm width.
PET strap seale:Especially design on major parts, with balanced tensioning, smooth bending. Easily use. Nice stainless surface.
Operation instructions
1.Wrap PET strap around the carton/box, grip the strap tensioner, press the pulling bar, put PET strap under the platen and cutter shell, the end of PET strap should reach out 2″
2.Insert PET strap into cutter and winch slots
3.Grip the tool, pull the bar until PET strap becomes tight.
4.Put one seal on PET strap, with opening down.
5.Open the strap sealer fully, bite the seal tightly by folding the handles together, and remove the sealer
6. Press the tensioning bar, cut the strap off, and remove the tool to the right side.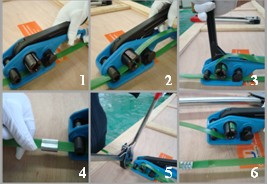 Pneumatic PET strapping Tool
It is made based on Swiss technology, and used with air compressor. It takes use of high pressure air source to achieve high-speed taut friction welding.Compare with manual PET strapping tool, it combines the functions of tightening, welding, cutting, finish these operations one-time.
It works efficiently with smooth and strong welding connections. No need use strap sealer and strapping seals! Save your time and reduce your cost.
It is widely used in the packaging of light steel, metal, papermaking, stone products etc.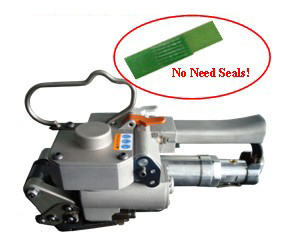 | | | |
| --- | --- | --- |
| Model | UP-19E | UP-25E |
| Available Strap Width | 19mm | 25mm |
| Available Strap Thickness | 1.0mm/td> | 1.2mm |
| Max Strength | 259kg/td> | 259kg |
| Average Pressure | 0.65pa/td> | 0.65pa |
| Tool size | 280×165×180mm/td> | 280×165×180mm |
| Weight | 3.8kg/td> | 3.8kg |