HeatGuard
Container Thermal Liner

Heat damage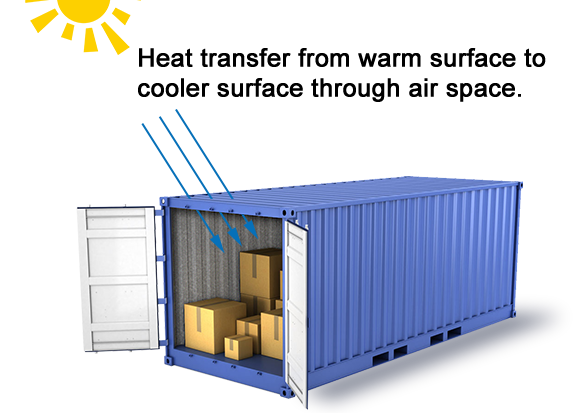 During the long distance transportation on the sea, in the daytime, the sunshine keep heating the iron-made containers, and raise the temperature terribly in the containers. In the nighttime, the rapid dropping of temperature of the container easily cause moisture condensation, which is called "container rain".
The great change of temperature of day-to-night climate conditions brings a lot of quality damages to the cargos.
Furthermore, there are other threats like water, mould, radiation, vermin and gases. All of these circumstances have highly unpleasant consequences.
What is HeatGuard?
HeatGuard container thermal liner
is make of high reflective aluminum material which reflect 95% of radiant heat. The special installation method also creating air gap in between the container wall and roof to prevent conductive heat transfer. A total seal environment created by HeatGuard liner form a envelop which preventing movement of air and thus preventing convection heat transfer.
In this way, it provides thermal Insulation function, and stable temperature environment for the cargo in the container. It prevents the temperature from rising and dropping in a big range, protecting the cargo from the damage of heat gathering and moisture condensation. So it effectively save the cargo from the quality loss.
HeatGuard pallet cover
HeatGuard pallet cover Compared with container liner, they are smaller. It is designed for cargo packaged on pallets. It can be made in customized size.
Whether for summer heat insulation or winter warm keep, we can offer you the most suitable packaging solutions.
For more temperature sensitive products, container liner and pallet cover can be used together which will have double effeect.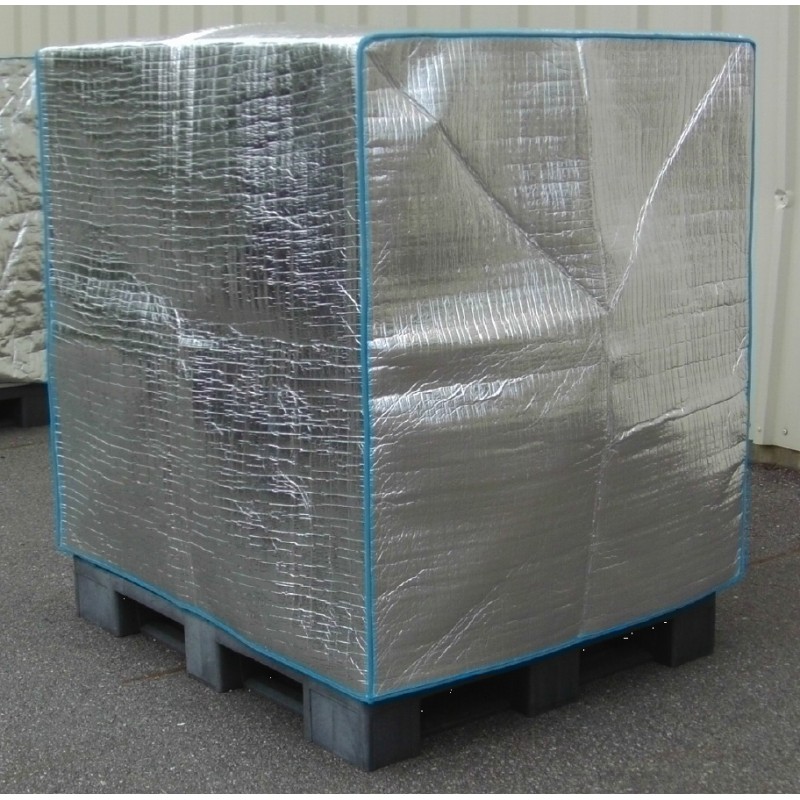 How does HeatGuard Work?
HeatGuard Material
Bubble Film
HeatGuard Material It is made of 7layers structure, which is pure aluminum foil for two sides, middle layer is barrier layer.
Compared with traditional bubble film and EPE, this material is more light and thin and convenient to process. It has high resistance strength, and can be recycled to use.
Effect
In summer, when ambient temperature is 36 degree,container inner temperature will arrive 55-60 degree,but liner bag temperature is just in 40-45 degree, then have 10-15 degree temperature difference.
it will have a better insulation effect to use with pallet cover together.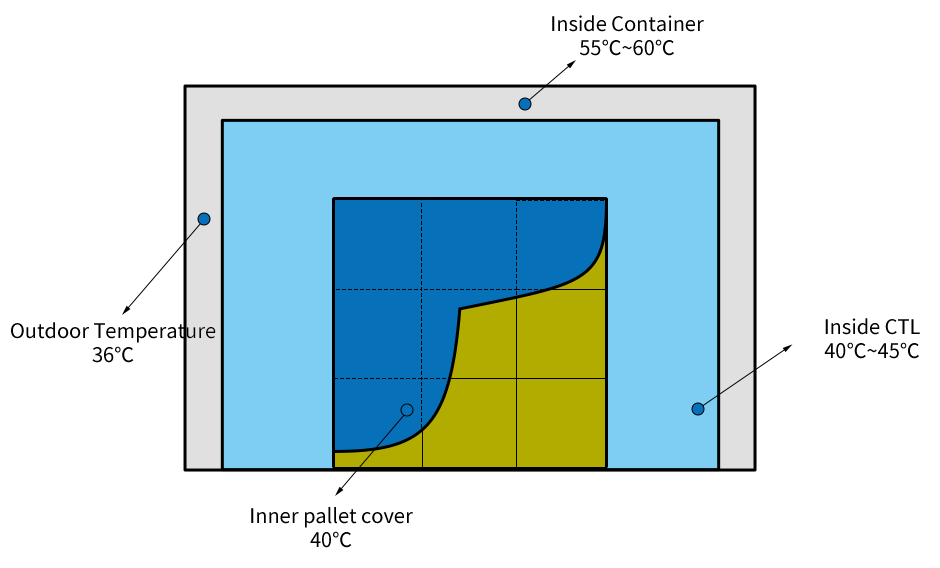 Specification
Product name
Model
Size(cm)
Package Size
HeatGuard Container thermal liner
HG-20GP
600*240*240
44*70*17cm
HG-40GP
1200*240*240
47*74*23cm
HG-40HQ
1200*240*270
49*74*25cm
HeatGuard Pallet Cover
PC-1
100*120*120
30*53*10cm
PC-2
110*120*120
PC-3
120*120*140
Application Pictures
Applications
HeatGuard is widely used in food, chemical, cosmetic, pharmaceutical, electron, spaceflight etc.